Airport Equipment Supply has a few items most plane hangar managers will find useful. In addition to the wet floor and caution signs found on our maintenance page, we offer hangar cooling solutions and fire safety equipment.
As you know, airport hangars are large open spaces and keeping them cool can be very costly if you are using an air conditioning system to cool the space. A much more economical cooling solution is to cool the space with evaportaive cooling fans.
We offer a couple heavy duty options to cool your airport hangar:
PORT A COOL JETSTREAM 270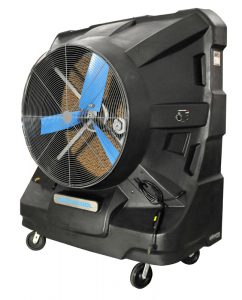 The Jetstream 270 is an commercial grade portable evaporative cooling fan with a variable speed fan that pumps out 26 MPH airflow at 22,500 CFM. It has a 65 gallon reservoir and a cooling area of 5625 sqft. The mist does not get your floor wet. The Jetstream 270 also features a 3 year warranty on all electrical components.
Price: $3699.00 includes free shipping to most continental US locations. Airport access and lift gate service charges may apply
Model #: AES-PACJS2701A1
Color: Black
Power Requirement: 120 Volt / Single Phase / 20 Amp Dedicated Circuit
Amperage: 15.2 Amps on High
Operation: Variable Speed
CFM: 22,500 cfm
Fan: 48″ Fan
Cooling Area Coverage: 5625 Sqft
Item Weight: 375 lbs
Dimensions: 79″W x 41″D x 90″H
Water Capacity: 65 Gallon Reservoir
Portable: Heavy Duty Casters
WARRANTY: 3 Year Warranty on all electrical components.
POWER BREEZER PB10-A-06-B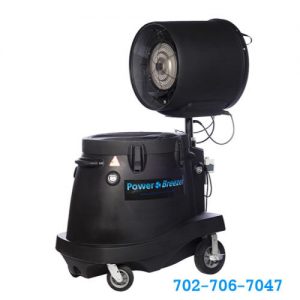 The Power Breezer® is a powerful workhorse that was designed to keep the troops cool during Desert Storm. The oscillating fan cools up to 3000 square feet of space. The large 80 gallon reservoir will approx 40 hours before refill and the mist does not get your floor wet.
The Power Breezer® uses misting fan nozzles instead of cooling pads. This eliminates the need to replace the costly pads every few years.
Very Low Maintenance
Portable
Quick Set Up & Tear Down
Direct Drive 110 Volt, 9 Amp, 900 Watt
Energy Efficient
Dimensions: 29.5″ x 42″ x 43″H
Model# AES-PB10-A-06-B
2 Year Warranty
PRICE: $4400.00 each includes free shipping in continental US.