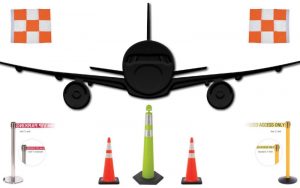 Airport Equipment Supply is a nationwide supplier of commercial and industrial grade safety equipment for both the interior and exterior operations of large International airports as well as mid-size and small municipal airports.
We offer crowd control equipment, parking lot management equipment, a few janitorial items and some ground support equipment (GSE) that includes but is not limited to indoor and outdoor retractable stanchions, safety cones, portable outdoor cooling fans, barricades and sign options.
As an equipment dealer, our multiple sources of airport equipment allows us to quickly fulfill orders from warehouses located on the east and west coast and other locations throughout the continental United States.
From airport parking to the ticket counter to passenger pickup and also from the airport apron to the hangar, we have equipment you can utilize to improve and maintain in the efficient operation of your airport.