Traffic cones, portable and surface mount delineators, portable and temporary signs, bollards and plastic and steel barricades for airport parking lots and parking garages.
TRAFFIC CONES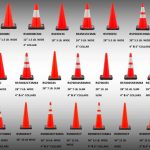 We can  supply you with bright high quality traffic cones from 18″ high to 36″ high. We are a dealer of JBC pvc traffic cones which outperform most other brands of traffic cones. We do have a minimum order requirements on traffic cones. We highly suggest maximizing your order to get the most out of your shipping costs.
CLEAR TRAFFIC CONES
Ideal for interior and exterior airport crowd and traffic control plus security. Clear translucent traffic cones offer see through visibility eliminating multiple on-site locations where a device can be hidden. Various color reflective bands/collars are available.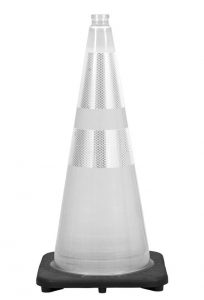 To receive a quote, select your cone below and then contact us with the associated part number(s), quantities and destination information.
SURFACE MOUNT DELINEATORS
Surface mount delineators are used for lane separation in parking lots and parking garages when a more permanent solution is required beyond traffic cones and painted lines. Sizes range from 24″ high, 36″, 42″ to 48″ high.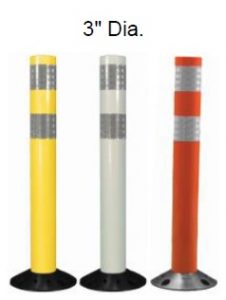 PORTABLE TEMPORARY SIGNS
Portable all weather plastic signs with reflective vinyl labels are stackable, easy to handle, easy to see and customizable. Price includes label design and 20 lb base.
44″ tall
9.5″W x 36″H reflective labels on both sides of sign
12 lb Base for Indoor Use @ $89.95 each + shipping
20 lb Base for Outdoor Use @ $94.95 each + shipping
BOLLARDS
PEDESTRIAN BARRICADES
Pedestrian barricades help prevent passengers from accessing restricted areas. We offer both heavy duty steel and plastic barricades.
STEEL BARRICADES
Flat foot pedestrian barricades are recommended for use on hard flat surface. Bridge foot pedestrian barricades are recommended for grass areas or where surfaces are likely to be uneven.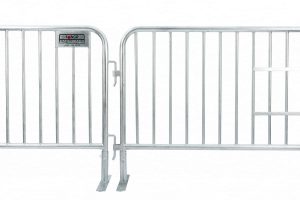 90″W x 42″H, Weight: 55 lbs
Price: $99.95 each + shipping
BRIDGE FOOT MODEL: AES-PB4290-B
FLAT FOOT MODEL: AES-PB4290-F
PLASTIC BARRICADES
DIMENSIONS: 78″W x 39″H
WEIGHT: 26 Lbs each
COLOR OPTIONS: Blue, Yellow, Red, Orange, Green, White
PRICE: $149.95 each plus shipping